Venmo is a PayPal-owned American company that helps users make payments more manageable by allowing them to transfer funds to friends or any business directly through a mobile app.
But sometimes scammers make fake Venmo payment proof to fraud people, which might be a concern. In that case, you should know the differences between an authentic and a fake Venmo screenshot.
You might also prank your friends by sending them fake payment photos. Whatever the reason, if you want to know how to make fake Venmo screenshot, this post is the only thing you must go through.
How to Make Fake Venmo Screenshot?
It's easy to make fake Venmo screenshots, as you'll find many Venmo generator tools online. But not all can provide you with the authenticity of the payment proof. So, I have sorted out five tools from the market that you can use to accomplish the task quickly.
But you should only use these tools to prank your friends and not to fraud someone. I'm sharing them to let you have fun with your friends and learn the differences between an original and a fake payment screenshot.
Quick Receipt
Quick Receipt is one of the best tools to make Fake Venmo Screenshots, and you can get started with it instantly just by downloading the app.
It provides you with a lot of templates that you can use to make your image look genuine and authentic. You also have the authority to add your client's details, company name, and logo to the payment receipt.
Not only Venmo, but you can also quickly create a fake Zelle PayPal payment screenshot using this app.
Cash Receipt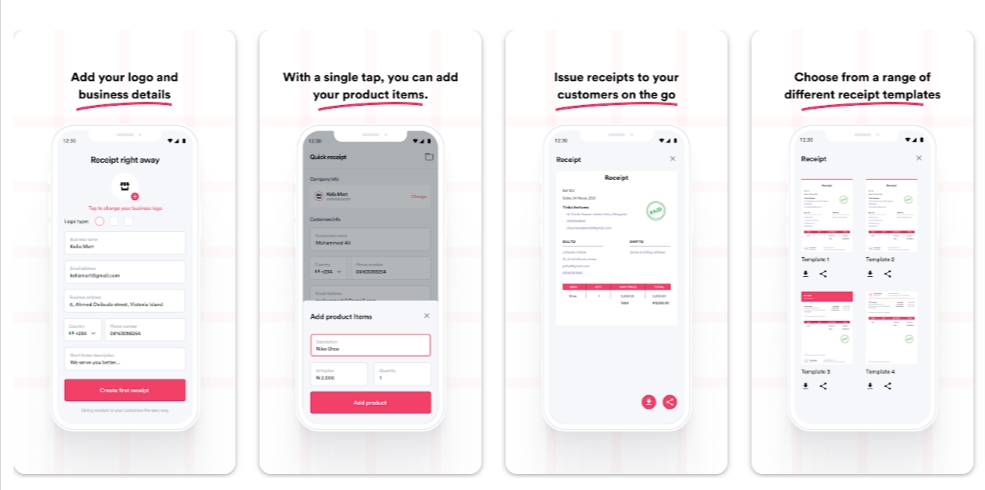 Cash Receipt is another easy-to-use tool that allows you to generate fake payment screenshots of different platforms, including Venmo.
All you need to do is to download its official app from the App Store or Play Store and open it. Then, you'll see many templates there, and you need to find Venmo Payment proof there. After that, it'll ask you for all the details of that payment, and once entered, you can click the "Make The Receipt" button to generate the screenshot.
This app also has the option that allows you to share all the images you created directly through email or other social media platforms.
Express Expense
The third tool to make fake Venmo screenshots is Express Expense which app is available on respective stores on your device. It's the perfect app as it can make lookalike proof quickly and easily.
This app has built-in templates; you can quickly find the Venmo payment proof there. Then, enter the details as you desire and generate the screenshot in the app.
Make Receipt
If you're a business owner who wants to provide receipts to customers, then Make Receipt will be a treat for you. You can also use this platform to generate fake Venmo payment proof.
This tool provides you with some prebuilt proforma, and you can select any according to your needs and generate images quickly.
Apart from the Fake Venmo Screenshot, you can also use this platform to efficiently generate receipts for ATM Withdrawals, restaurants, taxis, fuel, etc.
Photoshop or Other Photo Editors
Photoshop or any other photo editor like that is a great platform to customize any image, but you'll surely need some knowledge.
On this kind of platform, you can create images as you wish. So, if you have some Photoshop knowledge, observe a Venmo Payment proof and try to make a fake one. You can also import a payment screenshot in this app and edit all the details.
How to Spot a Fake Venmo Screenshot?
Now, you know how to make fake Venmo screenshots, but someone else can also try to fraud you by doing the same, and Venmo doesn't compensate you once you get scammed. So, you should have enough knowledge to spot a fake Venmo screenshot. Here are some simple points that you should notice in a payment proof:
You should check out the font in the screenshot to see if it's irregular or different from Venmo's.

In a Fake Venmo Screenshot, the logo or name of the company might be misplaced, so you should also check that out.

You can also contact Venmo support and ask them to validate the transaction id to know whether it's fake or real.

If the screenshot is pixelated or blurred, it'll surely be fake.

You should also know that Venmo never asks you for your details like email address, phone, or PIN, and if anyone claiming to be from Venmo asking for those credentials, he's fake.
Conclusion
So, these were the 5 best Venmo Screenshot Generators 2023 that will help you make Fake Venmo Screenshot. Hopefully, this post has helped you understand the method quickly. If you still have anything more to know, ask me in the comments below.