Considering the popular streaming services that users are highly interested in watching live sports, there can be two most obvious names that need no introduction. Even the online query of who is better Peacock vs Paramount Plus makes them very competitive.
Your desired selection is primarily based on the exact content that you are eager to watch. As a paid subscriber, you can easily watch local CBS and NBC stations through both apps. Before listing the specific features that differentiate them from others, let's know their similarities first.
Peacock Vs Paramount Plus: Similarities
The viewers can happily watch live sports along with a never-ending list of original content as well as thousands of titles. Even you will get the feeling, that you like and appreciate both together. In this way, they look completely together as a close friend who needs the company of one another. So, talking about the most important aspect of money, you can directly ensure substantial savings at the end of the month, considering them being a cheaper alternative.
When you generate a saving mechanism without sacrificing the aspect of quality, you start believing in the proverb, "money saved is money earned". Hence, now you get a respite from an expensive cable package for watching live sports or favorite shows. You equally have the choice to pair them up, for a significant savings aspect.
Paramount Vs Paramount Plus: Which is better?
Both apps provide excellent substitutes for the viewers who have been watching content through cable and satellite. They indeed give respite for people as cost-effective apps to be able to watch live sports along with the best content that renowned TV shows have to offer.  Let's now take a look at their specific features while helping you to decide accordingly.
Offline Viewing
Watching movies and shows without any hindrance or disturbance right on the go can be so soothing, once you download them. Yes, I am talking about the beauty of offline viewing that works with a compatible device. While premium subscribers let you download content on Peacock, the saddest part is that the viewers can only avail the facility for the selected content and not all.
Even though Paramount+ users also need to be paid subscribers for offline viewing, the best part is that there is a larger choice of content. Yes, viewers can watch downloaded content on most of the available content. Unlike in Peacock, which only gives the facility to select content. The viewers can download up to 25 titles on both streaming platforms. So, naturally, Paramount+ has an edge with this feature.
Free Trial
When you don't know the exact features of an app, then you look for a free trial, to know whether taking a subscription will truly be viable for you. Peacock offers a free subscription, while Paramount+ gives a 7-day free trial to viewers and after that, consumers can accordingly purchase the plan in order to continue streaming. The free version of Peacock restricts the users of certain content. While Paramount+ gives a complete chance to go through the library for seven days.
Live TV
The paid subscribers of Paramount+ and Peacock have an upper hand when it comes to watching Live TV. This is a significant aspect, considering not many OTT platforms give the convenience of watching 'Live' action-packed sporting events. The paid subscribers of Peacock can watch Live TV with its Premium Plus plan, but it only offers limited content. However, Paramount+ subscribers can watch four CBS live stations as that means, not missing any moment from the world of sports. Like that of sports coverage of live matches relating to football matches or the NFL etc.
Parental Controls
Paramount+ allows guardians to have parental controls on its six different profiles. However, with respect to Peacock, it lacks the features of restricting certain specific libraries from the purview of children.
Peacock Vs Paramount+ Plans Comparison:
The plans comparison of Peacock Premium and Paramount Plus are as follows: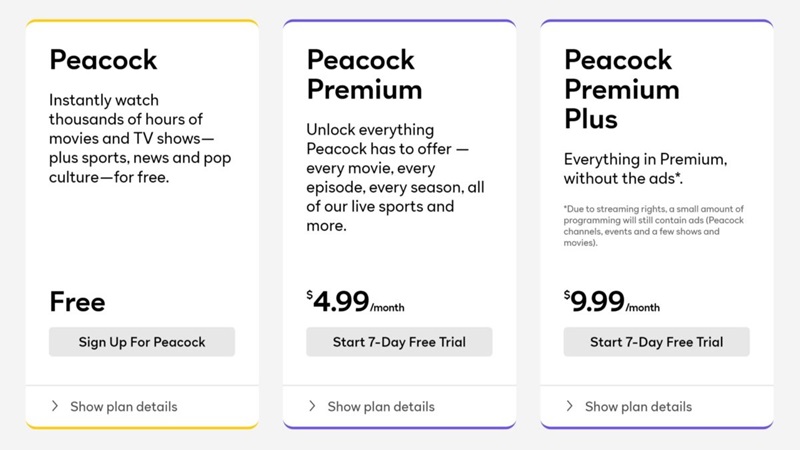 Frequently Asked Questions
Which is better Paramount Plus or Peacock?
Peacock gives you the facility of its features at only $5 while it costs over $10 to access the features of Paramount Plus. However, the higher price is also due to a reason, where the concerns of the ad are no longer an issue with the latter. Again it is the decision of the subscribers in terms of the amount they want to incur for using the facility.
Does Paramount Plus come with ads?
Paramount Plus is an ad-free service that takes the aspect of giving viewers an easy-to-go feature. It is devoid of various sorts of concerns and obstructions arising out of ads in order to give a smooth watching experience.
Does Peacock have ads?
There are free and premium plans associated with Peacock TV. While the premium subscribers can to a large extent get rid of the ads, there is one concerning aspect that demands special mentions. The Premium Plus plan still has certain limited ads that the viewers have to contend with, this is in the wake of streaming rights.
Conclusion
Finally, through the aforesaid post, one can get a realistic view of Peacock vs Paramount Plus features. The query of which one is better is purely a matter of personal choice based on the type of content one wants to watch along with the detailed needs accompanying along with. The post has categorically mentioned various aspects for readers to better decide accordingly.