Have you ever got an error saying "the active directory domain services is currently unavailable" in Windows 10, 8, or 7 PC? This error mostly comes when you try to print any document using the Microsoft Word. The Error occurs if the printer is not detected by your system. The MS Word couldn't get proper permissions that's why this error message comes. So, we need to allow the permissions and list the printer to the Microsoft Word.
Most of us use Printers to print our personal documents. If you have recently bought a new printer and connected to your PC the chances are more your printer is not listed to the MS Word. This causes the active domain services is currently unavailable. This error means that the printer is not perfectly configured with the MS Office. So, here we have brought the solution for you to fix this issue.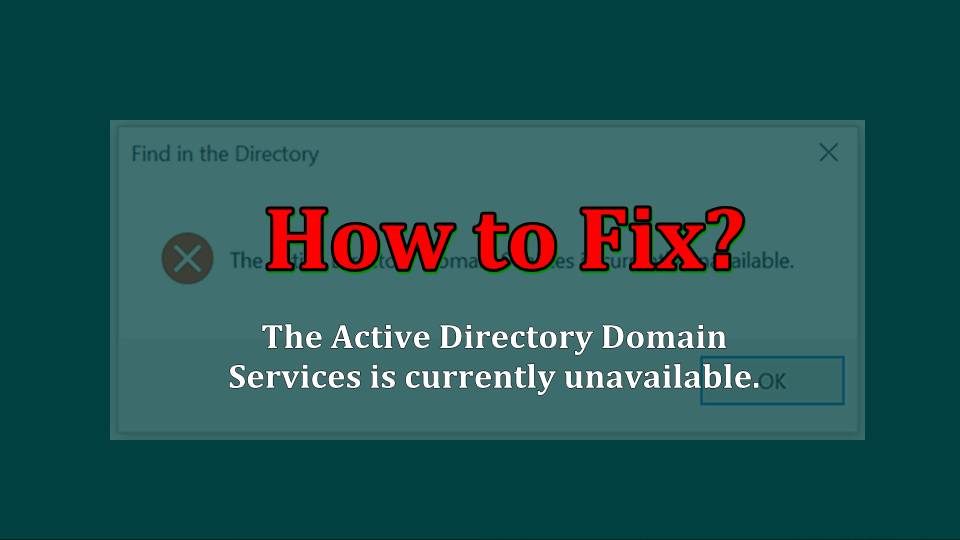 Fix 'The Active Directory Domains Services is currently unavailable'
For your safety, I would recommend taking the backup of your system before performing this task. Follow the steps given below to fix this problem permanently from your Computer. These steps will work on Windows 10, 7 and 8 too.
#Method 1: Use Registry Editor to allow permissions
In this method, we will use the registry editor where we can give the full access to the MS Word.
At first, Press Windows + R key simultaneously.
Now, a dialog box will appear. Type 'regedit' in the box and click on OK.
It will ask for the permission. Just click on Yes.
A Folder will be opened. Follow and click on arrow before the folders one by one as given – HKEY_CURRENT_USER > Software > Microsoft > right click on Windows NT > CurrentVersion.
Now, you will get three sub-keys under AppCompatFlags. Right-click on a sub-key and then click Permissions.
Repeat the same steps for all the 3 sub-keys.
Select your account there and tick on Allow, next to the Full control. Then Click OK.
Give the full permissions to PrinterPorts and Windows too. The same steps will be required as you have done above for allowing full control to them.
After finishing all the steps, remove the printer cable from your Computer.
Restart your PC and plug in the Printer and install it again on your system.
Hopefully, your problem will be solved after doing this. If you wish, you can also try the alternate which is given below if the first one doesn't work for you.
Also Read: How to Activate Windows 10 Using Microsoft Toolkit?
#Method 2: Access Permissions Using Other Apps Like Notepad
If MS Office doesn't support your Printer, you can try other apps like notepad to add the Printer if its working fine from this application. Here, we will use Notepad as it's very easy to understand.
Close MS Office and Open Notepad on your Windows PC.
Now, go to File > Click on the Print option or you can simply press CTRL + P key.
You have to click on Find Printer button from there.
Then Add your Printer there.
That's all. The Printer will start working with MS office too.
Also Read: Fix "To Allow Access Please Respond On Your iPhone" Error
#Method 3: Resetting Print Spooler Service
The Print Spooler controls the Printing service on Windows. So, you can try restarting the service to fix the problem. Here is the simplest method to restart Print Spooler.
First of all, Press Windows + R key.
Now, type services.msc in the box and click OK.
Scroll down and find the Print Spooler option from the listing.
Right-click on the Print Spooler and click on Restart.
Now, close the Windows and check back if the Printer is working or not.
I hope you have fixed 'the active directory domain services is currently available' error with the fixes given above. I have listed all the possible solutions for this issue. Hopefully, you will not face any issue now. If you are still facing any problem, let us know in the comments section. I will try to reply back with the solution to your problem as soon as possible. Also, tell us which method is worked for your by simply writing a comment.