We cannot deny the fact that Truecaller is an excellent app. It helps you to find out the identity of unknown callers. However, there are quite a lot of users who simply don't like the Truecaller's SMS Service feature. So the question is how to disable Truecaller SMS service on Android?
In case if you are thinking the same, then I am here to help you out. Although there is nothing wrong with the Truecallers SMS feature. Like it allows you to block spam messages and has a lot of other features.
But the thing gets a little weird or irritating when duplicate messages start taking in your place. As a result, a lot of people want to disable the SMS service on Truecaller.
And doing so is extremely easy, and it can be done by following these below steps:
How To Disable Truecaller SMS Service On Android?
---
Disable TrueCaller SMS
In order to remove the Truecaller messaging service on your device, there are two things that you can try out.
The first thing is you can uninstall the Truecaller app from your Android device. However, the only drawback is that you will not be able to use any of the Turecaller features.
Hence, in this case, you have to try out the other method. The other method requires you to remove Treucaller as the default messaging app and disable SMS permissions for the Truecaller app on Android.]
In this way, you will be able to use Truecaller app as a call detecting feature and not use Truecaller's SMS features at all.
Remove Truecaller as the default messaging app
First of all, you have to go to Phone's settings from your Device.
Then go to Apps and Notifications and select Default Apps to make sure Truecaller is not your default SMS app.
After that, you have to scroll down and tap on the SMS app and select Phone's original SMS app as the default messaging app for your Device.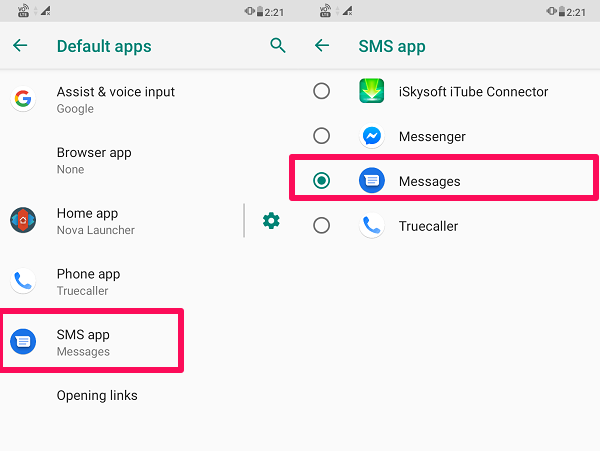 Once you are done making these changes, it will prevent Treucaller from being the default SMS app. As a result, it will not store any messages, and you can start using your default messaging app only.
Disable SMS Permission For Truecaller
To completely remove Truecaller as a messaging app, you will need to go to Settings.
Then go to Apps and Notifications and over here you have to find Truecaller and tap on it.
After that, you will need to change the SMS modification to disable SMS permissions for Truecaller.
Once done, you will completely remove Truecaller from receiving messages on your Android device. Also, it will no longer be able to read your messages. Also, you will not get any sort of SMS notifications from the app.
Now you might be thinking that how can turning off app permission can disable Treucaller SMS service on Android. If yes, then let me just explain to you how app permission works.
Also Read: How to Fix SIM not Provisioned Error?
How App Permission Works?
Whenever you install an app, it requires you to give certain permissions to the app. For example, if you are installing any kind of social media app, it will ask for your location. Similarly, different types of apps ask for different types of permissions related to camera, files, contact and so on.
But why these apps ask for permission? Because whatever the app will be doing on your phone requires an authorization. Hence, you have to give the apps to do so.
In truecaller, you give the SMS access permission as you install the app from Google Play Store. Or it may ask for permission when you launch the app. And once you give the app those permissions, then it will run its feature according to that only.
So when you disable Treucaller SMS service on Android, you are simply revoking the SMS permission that the app has. As a result, it will not be able to access SMS features at all.
Final Words:
So that was all for your question that says How To Disable Truecaller SMS Service On Android. Now go ahead and try the steps out and see if they are working for you or not. Also, if there is anything you would like to ask, do comment below.