Streaming anime online has popularized over the past few years as the demand for watching anime has gradually increased but the distribution over television or any other content streaming platform is very low.  
There are sites like Gogoanime, which is currently the most popular anime streaming platform all over the world but has faced several bans in many countries as it distributes pirated content. However, there are tons of anime streaming sites on the internet that are as good as Gogoanime.
10 Best Sites Like GogoAnime in 2023
---
In this article, we have listed down Best sites like Gogoanime. All of the sites are checked before adding to the list, some of them may require a VPN to bypass the ban filter.  
1. Kissanime
One of the most famous anime streaming sites, Kissanime has a stronger reputation than Gogoanime in terms of anime series, movies, and mangas. The site loads faster than the other anime streaming sites as it has a very large user base. 
Kissanime is infamous for its pornographic ads and preventing the visitors from using an adblocker but there are some methods on Reddit which work like a charm. Overall, you can find almost any anime series or movie on kissanime with either subtitles or dubbing.  
2. Anime Land
Anime Land which is now renamed to Dubbed Anime is the best source for dubbed anime series and movies. It is also a great alternative to Gogoanime with fast loading servers and a neat user interface. 
You can register an account to use the chat feature and take or give recommendations for the latest anime shows. There is also a button to report broken links which is again a great step to keep the user experience amazing. 
There are a lot of pop-up ads on the site but you can use the opera mini web browser and use the block ads feature. Anime land lets you stream anime online or download it to watch later. Don't forget to check out Free Netflix Accounts if you love watching movies and series too.
3. AnimeShow.tv
Another good gogoanime alternative, AnimeTvShow.tv is a not so popular website with a neat user interface and better user experience. The best feature of this site is "Random Anime" which upon clicking will come up with a random anime series. 
There is a widget on the right sidebar which features the ongoing anime series, just check out the series you are interested in, and all of the premiered episodes will appear. 
There are a few pop-ups and on-page ads which can be blocked using an Adblocker. The good thing is that the site is not banned anywhere so you can visit it without having to connect to a VPN. 
4. Anime Ultima
Anime Ultima is another good alternative of gogoanime which has gained a lot of visitors over the past few months. The site has a huge database of anime series and shows and also has an awesome android app. 
The site has a clean user interface and also has a button to switch to the dark mode which is a lot better for those who watch anime at night. Other than this, Anime Ultima also has a community section which is like a forum. You can create a post, participate in a thread if you are a registered user. 
5. 9anime
9anime is a lot more similar to gogoanime, the site has a better interface than go anime but uses the same ad network, therefore it has a lot of on-page ads and some pop-ups too.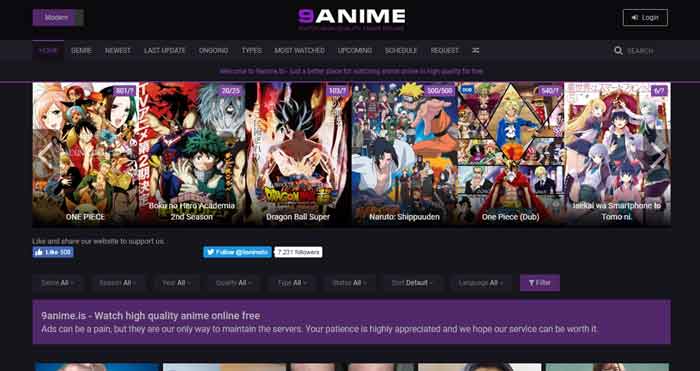 You can only watch anime online on 9anime, there is no option to download for offline streaming. The navigation menu has various parameters to look up for ongoing anime, genres, movies, or a random anime. 
You can also request an anime and the 9anime team will upload it to their database. There is also an option to register which is not mandatory but unlocks features like bookmarking, commenting and others. 
6. Anime Planet
Anime Planet is more than just a legal anime streaming site. You can find anime recommendations, manga recommendations, top-rated anime characters and much more on the site. It is a one-stop-shop for a weeb.
The user interface of Anime Planet is very neat and straightforward. The site uses Google ads, therefore there are no pop-ups and malicious ads. Moreover, Anime Planet is a fan-supported site and has been serving its fanbase since 2001. The site is legal; therefore, you don't have to worry about anything while using it. 
Also Read: Best Sites like CartoonCrazy to Watch Cartoon Online
7. Kuroani
Kuroani is another anime streaming site that is growing at a very fast rate all over the world. The site not only an anime streaming site but also a news site.
There are various parameters to sort anime series such as year, status, language, and genre. The ongoing category will list the anime series that is currently ongoing. Kuroani has its own discord community which is quite amazing, as you can discuss anime or anything else in the community. 
8. Crunchyroll
Crunchyroll is a premium site to watch anime series and movies. The site is far better than any of the above-listed sites has it has dubbed, subbed and almost every anime series on its server.
All of this comes at a monthly or yearly price which is worth paying if you watch anime regularly. The user interface of the site is amazing and it also has its official Android app which makes it easier to watch anime on the go. 
However, there is also a free version of Crunchyroll which has ads, limited streaming quality and some anime titles missing. 
9. Anime Pahe
The last but not the least alternative for Gogoanime in this list, Anime Pahe, is an anime streaming site that has a growing user base.
The site has a clean user interface and doesn't show any ads. The major part of the revenue is generated through the donation system as it is managed by a developer.  
The site doesn't have a huge database and doesn't have proper labels of subbed and dubbed anime. 
10. Anime Freak
With its simple user interface, Anime Freak has the latest collection of animes similar to the Gogoanime. It provides thousands of dubbed and subbed anime series without any charges.
Using this website is quite simple due to its user-friendly interface. It lets you search your favourite anime series by genre or alphabetically from the search box. The website gets updated regularly with the collection of the latest series of today's world.
Moreover, the users are allowed to download the stuff from this website along with the free streaming. I'm pretty much sure you will love this website, so give it a try now.
Final Words:
Gogoanime is one of the most searched anime streaming sites. The site has been banned in a lot of countries. However, you can still bypass the ban using a VPN but it is always good to have a list of sites like gogoanime.
In this article, we listed down the working alternatives of Gogoanime. If you have any issues while connecting to the site, use a VPN.