A large number of PC users are running Windows 10 on their computers. There are several factors about this OS that attracts a lot of people. If you want to enhance your Windows Look, you must try out Windows 10 Themes or Skins. In this post, we have brought the best themes which you can apply on your Windows PC to get a completely new look. So, proceed to the post to find the good themes and use them on your PC from today.
If you have recently upgraded your PC to Windows 10 then you must try out some cool skins to enhance your Windows look. Almost every PC user is familiar with Windows Themes but few of them are unable to find good skin. If you are also unable to discover a fantastic theme for Windows then we are here just to help you out. We have collected some amazing skins pack which you can try them out.
Best Windows 10 Themes / Skins 2022
Here are the best themes for your Windows 10 PC. I have collected them from the Internet and shared it after applying them on my PC. Just download them and double-click on them to apply on your PC. You'll find a completely new look at your Windows PC after installing the given theme into your Computer.
If you love Nature, this is the perfect skin for your PC. After applying this theme, you can get a realistic feel of Wildlife and surroundings with beautiful flowers and plants. It has around 7 different Desktop Backgrounds which frequently change at a specific time. This Windows Skin also changes the background color and Taskbar style. Download this amazing theme now, you're surely gonna love this skin.
2. Windows XP Theme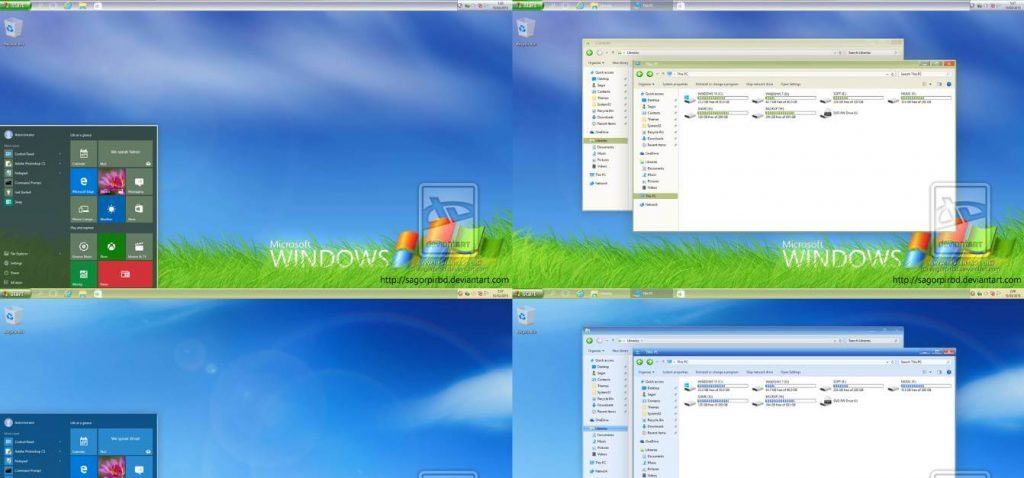 There are some places where Windows XP is still installed on the Computer. For example, our colleges, banks, schools, offices and some other places. Do you also like the User-Interface of Windows XP? If yes, then this theme can fulfill your desire. You can get Windows XP to look on your PC with Windows 10 Installed. Isn't it interesting? Well, try out this theme by downloading it below.
Remember those days when people used to install Vista on their PC. Like Windows XP people don't use this OS on their Computer anymore. But, some people want to test the older appearance of the Computer. With the help of Vista Theme, one can get a look of an old user interface of their PC. This theme includes Vista Style Visuals/themes, Vista Start ORB Image, Original Vista Wallpapers, etc.
This theme provides a completely new look to your PC after using it. It has 2 different versions, light and dark. You can apply your preferred version of this theme on your PC. Each version contains 8 different Wallpapers. It is one of a beautiful themes with a minimalistic look. Once you apply this theme, you can feel the different looks of your Windows.
5. Silk
This is one of the most beautiful and colorful themes which provides an amazing appearance of your Desktop. It will give you a Notebook like the look of your Windows PC. The best thing about this theme is that it can be customized into different colors of your choice. It allows you to arrange your opened folders in such a way that they appeared like cards moving with cascading effects.
Also Read: How to Activate Windows 10 Using Microsoft Toolkit?
Like the first theme, we have shared in this post, this is another nature-based skin. A true nature lover can't resist using this theme on his/her Desktop. This theme makes the green environment on your PC with its amazing wallpapers and background color. It has a collection of eleven Full HD Wallpapers that contains beautiful natural themes. The Wallpaper will change continuously at your given time. You should give this Window 10 theme if you truly love nature.
7. Vanilla
It is another simple and clean theme for Windows 10. This theme is borderless and looks similar to any online cloud platform. It gives an awesome look at your Windows Desktop and you'll feel the fresh Operating System on your PC. To enjoy this theme, you have to download the skin and extract the Zip file. After that, you need to copy the theme file in C: \Windows\Resources\Themes.
Who doesn't love the user interface of the Mac OS? Do you want to experience the same UI on your Windows 10 PC? This can be done using the Mac OS EI Captain Windows 10 Theme. These themes will give you the same appearance as a Mac Desktop. The icons and apps drawer is also quite similar to Macbook. Wanna give this theme a try, just download and install it now on your PC and enjoy.
Also Read: How to Make a Keylogger Using Notepad ?
This is another one of the best Windows 10 themes that enhance the look of your Desktop. It provides you with an unexpected and amazing appearance on your Windows Desktop. Using this theme, you can get the user interface of Aero Glass on your Windows 10 Computer. To enjoy the cool and classy design download this amazing skin now. You will get a transparent and glass-like interface on your PC after using this theme.
Most of you guys have Ubuntu OS on your PC and you know that Ubuntu is totally different from Windows in its look. If you want to get an Ubuntu-like Interface on your existing OS, you can do with this theme. With this cool Skin, you can get the feel of using Ubuntu on your Windows PC. You will get the Desktop the same as Ubuntu, having all the icons of useful apps at the corner. Some other features are also similar to Ubuntu.
11. cakeOS
Last but not least, we have brought you cakeOS theme for Windows 10. This is another wonderful theme that gives a completely new and attractive makeover to your Desktop.
The theme contains beautiful buttons and icons. Also, the theme consists of an awesome collection of wallpapers that can be applied anytime. You just have to download and apply the theme and see the magic.
Final Words:
Using a Fantastic Windows theme provides an awesome look on your Windows Desktop. But, people get confused by choosing the best Windows 10 themes for their PC. That's why this article is shared with you where we have shared the best Skins for Windows 10. Each theme has its own specifications, so you must try them all on your PC. If you are using any other wonderful theme on your Windows Computer, please share it with us in the comments.