Through this article, we have brought to you Top 5 best FRP bypass tool to bypass Factory reset protection lock. These tools are very helpful when you reset your android and are locked out of it as you don't remember the google account of your phone. Factory Reset Protection is a security measure for android phones. Under this feature, if you reset your phone then you have to enter the google account on your phone to unlock it. It is very helpful if your phone is stolen and the thief resets it.
But sometimes it becomes a problem for those who don't remember the Google account of their android. If you have reset your phone and are now not able to open it then you are on the right page. Today, we are sharing the best FRP bypass tool or google account bypass Apk. You can use these tools to remove FRP lock and unlock your device easily.
1. GSM Flasher ADB Tool
In our list of FRP bypass tool, GSM Flasher ADB is the first and best tool to bypass FRP lock. It is also easy to use and unlocks any android device within minutes. You have to download it to your pc and then connect your phone via USB cable. Thus it is a great and easy to use tool to bypass google account.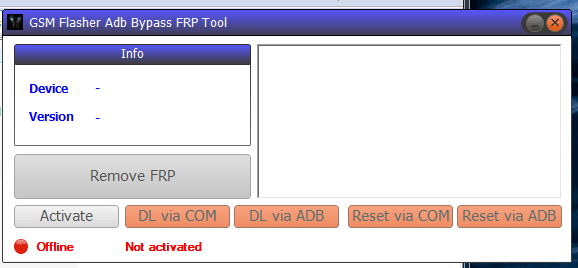 Features Of GSM Flasher ADB Tool
You can also remove pattern lock with this tool
Supports all type of operating systems and all android versions.
Easy to use and has a simple interface.
Can also reactivate lock removers.
So these are some amazing features of GSM Flasher ADB Tool. Due to a lot of features, we have placed it in the first position. You can download it from below.
2. Pangu Samsung FRP Bypass Tool
Pangu is another best FRP bypass tool which bypasses FRP lock easily and fastly. It is very much famous among Android users due to its fast speed. Pangu FRP Bypass Tool works for all type of android devices. If you are locked out of your device, you can easily unlock it with Pangu.
Below are some of its key features.
It is totally free of cost. This means you don't need to spend a single penny.
One of the fastest FRP bypass tool.
Bypasses FRP lock or google account lock within 5 to 10 minutes.
Supports all android devices including Samsung, Motorola, Lenovo and even MTK SPD devices.
So, Pangu is also an awesome bypass google account Apk. You can get it from below download link.
3. Dr. Fone – Unlock (Android)
Dr. Fone is also one of the most famous in the list of tools to bypass FRP lock. It has a lot of features and blazing speed too. You can bypass FRP lock with this tool within 5 minutes. It is a premium tool and you have to pay to use it. Dr. Fone is available for only Samsung and LG devices.
Features of Dr. Fone – Unlock
It can easily remove any type of lock including pin, pattern, password and fingerprint lock.
Bypasses FRP lock without any data loss.
You don't need any technical knowledge to use it. Just use their simple guide to bypass FRP lock.
Works for all Samsung Galaxy and LG devices.
Gives 7-day money back guarantee.
Also gives the free update for the lifetime.
Cons
The only con with this tool is it works only for Samsung and LG devices.
4. Samsung FRP Helper
Samsung FRP helper is another FRP bypass tool available for Android devices. It is also one of the best bypass google account Apk and recommended by all of its users. If you have a Samsung device then you can use it to bypass google account lock.
Also Read: Fix "To Allow Access Please Respond On Your iPhone" Error
Features Of Samsung FRP Helper
The tool also provides a guide to bypass FRP lock.
It uses ADB feature to unlock FRP.
Simple to use and user-friendly.
Cons
Works only for Samsung devices. You can't use it for android phones of other company.
Download Samsung FRP Helper Tool
5. GSM FRP Bypass And Flashing Tool
Last but not the least. It is also a great FRP bypass tool available for free. GSM FRP Bypass tool is simple to use and works for all android devices.
Features of GSM FRP Bypass And Flashing Tool
Like other tools, it is also available for free.
Also works for android phones with very old OS version.
You can download it from below.
Final Words
So guys, here we provided you with some of the best and latest FRP bypass tool or bypass google account Apk. I hope you liked our post. With all the above-mentioned tools, you can easily remove Samsung FRP lock or bypass google account for free. So, use them now to unlock your device. If you also know some best FRP bypass tool, do share with us through the comments section.